Some people have Friends marathons, others grill on their deck like it's the Fourth of July.
AKA your closest friends. The people who aren't actually family, but MIGHT AS WELL BE. We asked the BuzzFeed Community to tell us about their chosen family holiday traditions. Some were funny, others were heartwarming, and a couple were just plain random AF. Let's get into them!
Have a roundtable discussion about all the things you give no fucks about.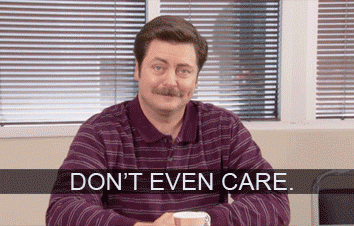 My friends and I celebrate what we lovingly call Nofucksgiving. It's a Thanksgiving dinner where we get together and eat and talk about all the things we don't give a fuck about. It's one of my favorite holidays, and it's so cathartic. We may not give a fuck about a lot of things, but we sure do care about each other.
NBC / Via readeroffictions.com
Host a judgement-free karaoke night.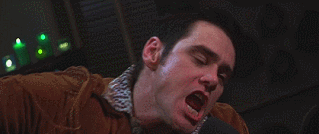 Me (trans*), my actual sister who is gay, and a handful of our closest queer friends – who all find the holidays a little rough because of tense family situations – get together the Saturday before Christmas. We order pizza and drink beer and exchange gifts and watch Home Alone, and usually have a drunk Christmas song lip sync contest somewhere in there.
It's probably the thing I most look forward to at the holidays. Just good wholesome fun with the people who I know love me the most – who I can be myself around and be wholly comfortable with. There's no worrying about offending someone with my very existence at my very conservative family gatherings! Plus, the pizza and beer make a great break from the typical holiday food everyone eats during this time of year.
Columbia Pictures / Via giphy.com
Throw an early Friendsgiving and keep the day itself low-key.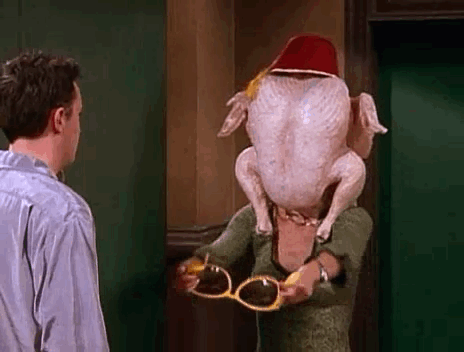 My husband and I have not-so-great relationships with our actual families. We don't feel like forcing Thanksgiving with them is necessary. So the Saturday before Thanksgiving we do Friendsgiving, and on Thanksgiving day we watch the Friends episodes about their Thanksgivings and hang up all Christmas decor. We do this every year.
NBC / Via giphy.com
Say grace…but like, not actually "grace."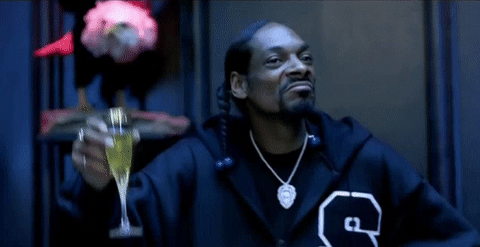 We like to say "grace." Basically we all do a shot after loudly announcing the word "grace."
youtube.com / Via imgur.com
Complete a winter-themed puzzle together.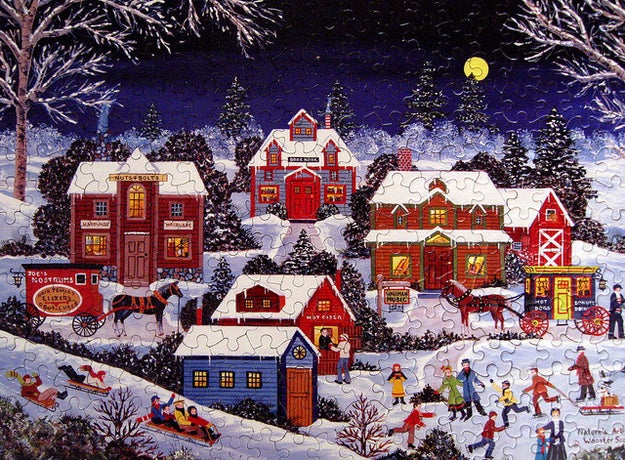 Years ago, in my first apartment, my roommates and I would do Christmas puzzles together. Towards the beginning of December we'd go shopping together and each choose a a winter-themed puzzle. Then, we'd put them out on our kitchen table to casually work on over time. We didn't always get the chance to sit down to work on them as a group, but it was cool to see the puzzle gradually come together and think of each other having contributed at some point. The puzzles would usually last past Christmas and help get us through the drag that winter can often be.
-Justine Fitting, Facebook
Puzzler4879 / CC BY-NC 2.0 / Via Flickr: puzzler4879
Act like it's the summer and light up the grill for some winter BBQ (shorts and sandals, optional).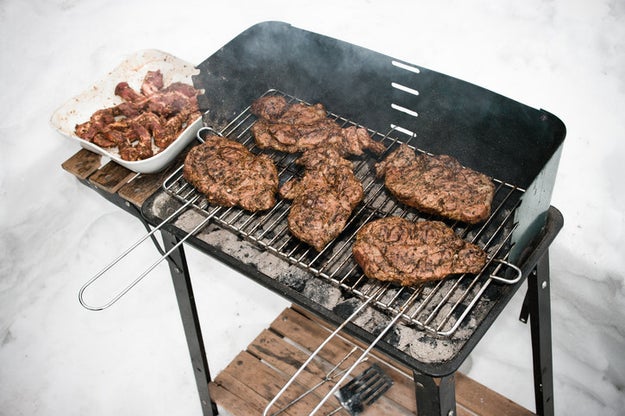 My best friend's family and mine do a Hanukkah barbecue. Literally, we stand outside and barbecue like it was the Fourth of July, even if it's the dead of December.
Ccat82 / Via gettyimages.com
Get all your friends together for a slumber party where you exchange gifts and play fun games.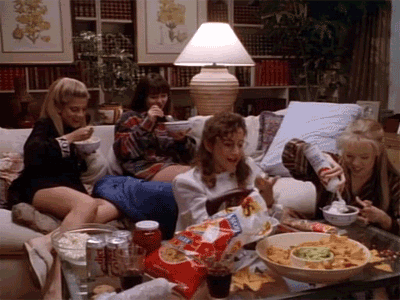 The night before Christmas Eve (Dec. 23) is one of the few nights of the year when I have the house all to myself – my parents are working all night since they have a deli shop and people order a crazy amount of food for Christmas dinner. So for the past three years, I've been throwing a Christmas party with all my friends. It's a girl's night; we play silly games, drink lots of wine, exchange gifts… Anyone can spend the night at my place, and it has become a traditional thing! So everyone gets really excited about it.
CBS / Via giphy.com
Take caroling seriously and find a choir to sing with every year.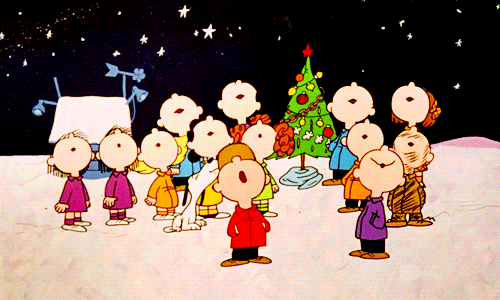 As a serious singer since age 12, I've been part of more Christmas/holiday-themed concerts and services than I can count. I was a member of both the regular and select chorus while I was in college, and had the chance to sing Christmas carols in a Rhode Island mansion with a number of my closest friends every year. I've also been part of my church choir since I was in high school (even singing on Christmas when I came home from college).
I take it so seriously that I make my parents plan our Christmas Eve dinner around when I have to get to warm-ups for Midnight Mass. I'm surrounded by the choir family I joined over 10 years ago, and I still cry every year. All told, singing with my chosen family is the best tradition I could imagine every year.
CBS / Via forarainyday.me
Or decorate the tree to its ugliest potential.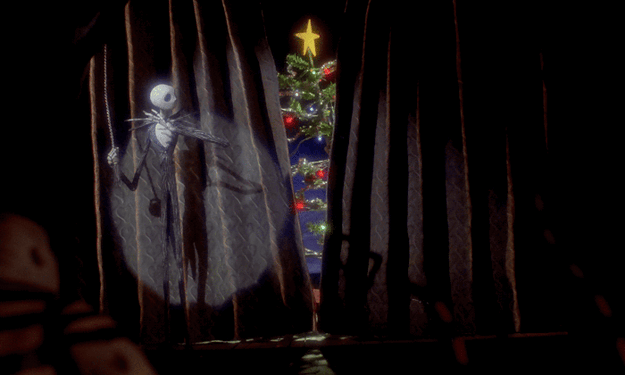 We always make the ugliest Christmas tree! Tacky second grade ornaments covered in glitter, lights with reindeer heads, handfuls of cheap tinsel…
Buena Vista Pictures / Via bustle.com
Skip the tree altogether and decorate something entirely unrelated to the holidays.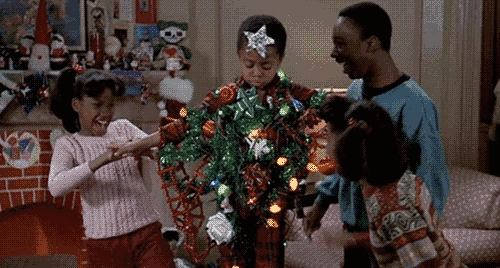 We have a 6-foot-tall cardboard cutout of the classic Lost In Space robot that we put lights on instead of a tree.
Paramount Pictures / Via buzzfeed.com
Gather at the same time and place every year.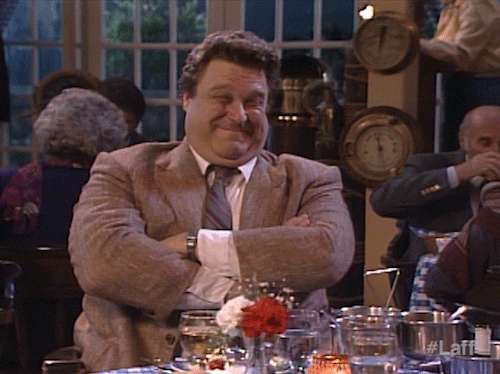 Seventeen years ago, my brother started meeting his friends at our favorite 24-hour diner on Christmas morning at midnight. The first year only three people attended, and now we average around 12. It started out because although Christmas is a time for family, we wanted our chosen family – our best friends – a time to be together on Christmas. We play Christmas trivia and share memories while drinking coffee and eating typical diner fare.
ABC / Via giphy.com
Build holiday gingerbread houses with your favorite candy.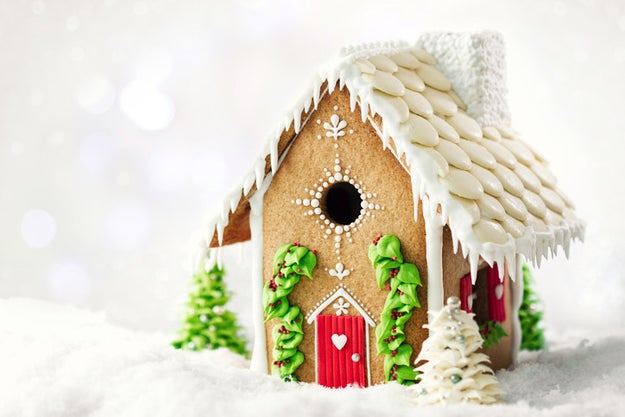 Every year, my fiancé and I️ build a gingerbread house. We play Christmas music, get our favorite candy, and just have a great time enjoying each other and making new memories. I️ look forward to it every year.
Ruthblack / Via gettyimages.com
Get together with a group to purge your closets and donate to those in need.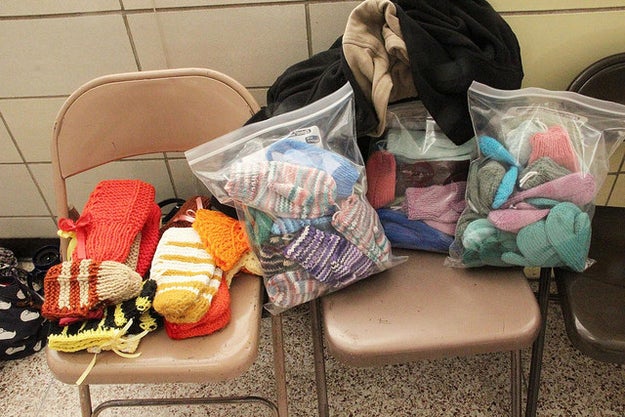 We go out on Christmas Day, visit the homeless, and bring them all kinds of gifts – things they need to survive the cold. Coats, scarf's, caps, socks, food, gloves. You name it and we bring it to them. Everyone should feel loved on that day.
-Chris Langford, Facebook
United Way of Greater St. Louis / CC BY-NC-ND 2.0 / Via Flickr: unitedwaystl